SaLuSa, September 16, 2011

我们的任务已经联系你们很久很久的时间了。我们伴随你们的时间甚至可以追溯到早期的文明,亚特兰蒂斯和雷姆利亚文明就是最近对你们所熟知的。我们总是以某些方式影响着你们的进化,但是这仅仅扩展于我们被允许的范围。【自由意志】是作为你们的体验重要的一个部分,如果你们已经基于它创造了自己的目标那么我们就不能够干涉。指引被允许,以及对于盖亚地球母亲的援助在近期已经更加的直接。造物主已经钦点了【扬升之路】,将完成你们的二元性之旅,我们非常的尊重并且肩负责任看着你们安全的通过。


我们依旧提醒你们,不像过去的循环那样,当前的情况 ,我们已经获得了特权可以在某些领域采取干预措施。否则的话黑暗势力早已摧毁了地球和她上面的所有居民。这一次是你们体验二元性世界的总结,这也是为何你们将很快遇到你们的远古祖先,来自地心文明的存有们。这里有关你们意识的层次,而你们已经得到了重要的发展使得你们与他们重新建立了连接,你们将一起学习过去的真实历史。这并不会对你们完全陌生,因为与他们的接触已经开始,一次又一次,在那些人发现自己进入到地心世界的时候。最值得注意的人就是Admiral Byrd和Colonel Billie Faye Woodard,他们的经历已经被很好的报道。


亲爱的,有时候真相比虚构的故事更加的非凡,虽然你们虚构的小说家们经常的把它揭示给你们。当你们回头看看《星际迷航》这个电视节目,它已经有意识的或者是其他的目的让你们准备好我们的到来。在银河联邦之中有着为数众多的文明,大多数都是人类的外表,但是也有着那些非常不同的种族。有件事情非常的清楚,那就是他们已经全部抵达了一个灵性的意识层次,可以让他们加入我们的行列。你们也因此必须与他们会面,并且将体验到在他们身上流动着的爱的能量,那么任何的恐惧将快速的消失,因为仅仅看外表总是会带来欺骗。(译者:对于外星善良种族的辨别非常重要,不要只看外表,要知道,负面的存有也可以假扮成非常美丽的存有,但是有一点是负面存有无法假扮的,那就是纯然的爱的能量,这个是最好的鉴别工具,当你跟他们见面的时候,用你的心去感受就可以轻松鉴别)


我们想提醒你们的是,你们的文明已经被邀请加入到银河联邦的成员中,但是很明显的就是需要你们提升并且拥有必要的意识层次,没有人享受过这样的待遇,因为你们的准备情况被我们非常简单的识别出来,这通常引证了【吸引力法则】的结果。我们希望赶快促进所有的灵魂最终抵达正确的水准,而时间的因素根本不重要,因为你们有无限的时间。关键因素是与那些你们已选择的体验很好的协作,以及你希望继续体验这个经历多长时间。但是在这点上也请记得,你们都曾经是【光之存有】处于一个非常高的层级。你们曾经渴望体验这较低的振动,并且非常的明白它将拓展你们意识的层次,使得你们能够帮助到那些愿意跟随你们道路的其他人。


生活仅仅是一个伟大的冒险经历并且从来不会停止,因为造物主一直在梦想着创造出更多的创造。在你们的前方依旧有着许多的挑战与机会来服务其他人。服务自我很快将转变为服务所有的灵魂,并且发现自己成为一个团体意识中的一员。这是自然的进化之路,直到你们最终成为源头的全然所是。但是以你们的计算,这会是漫长的旅程,而且还有一段很长的道路要走。


我是来自天狼星的SaLuSa,并且想说明一下,并且不带有任何贬损的态度,那就是人类的文明还只处在婴儿学校的层次。这都是因为你们丢失了更高意识层次的结果,这发生在你们跌落到这不同的维度中的时候,也就是你们今天的状态。而事实上,你们已经取得了重大的进展,仅仅在30年之内或者这么说,从和谐汇聚那时候开始。(1987年的和谐汇聚,地球开始启动扬升之路)请确信你们已经努力的在提升自己,并且已经取得了成功。帮助之力一直伴随着你们,许多的灵魂已经回应了这呼叫并且加入到你们地球之旅之中。这结果就是你们都在成为【光之存有】,而且我们深爱着你们坚持自己扬升之路的决心。祝福你们每个人。


Thank you SaLuSa.
Mike Quinsey.


麦克先生的下一次SaLuSa通灵信息将在9月28日的周三


Website:
Tree of the Golden Light

Traducere: 译者 U2觉醒
rth. The result is that you have become true Beings of Light, and we love your determination to reach Ascension. Bless you each and every one.


Thank you SaLuSa.
Mike Quinsey.

Website:
Tree of the Golden Light
PLEASE NOTE NEXT MESSAGE FROM MIKE QUINSEY WILL BE ON SEPTEMBER 28TH. THANKS.
"CONNECTING THE LIGHT" FRIDAY 16TH, SEPTEMBER 2.00PM, PST.
~FROM GALACTIC LOVE REPORTER MIKE QUINSEY~
Hi Friends,

I will be discussing with Genii Townsend her book "The

City of Light - Sedona" covering some 34 visits she has made to the Embassy

of Peace, which is filled with hundreds of Space Entities, where she is able

to learn of the City and its coming fulfillment.

The prototype City of Light is holographic, and expected to

soon be lowered to the surface in Sedona, and it will be followed by another

2 elsewhere in the US. Eventually there will be a total of 14 Cities of

Light throughout the world. The purpose is to have all kinds of healing

technologies available, as all must be healed.

Frequent reference is made to 11.11.11 and referred to as a

Love Wave, and it has to come before the first City of Light appears. Genii

has been told that both equal love, representing the NEW WORLD coming into

being, like a planet reborn in the Universe exploding with Light, and it

will be so. Also that the 11.11.11 Love Wave is the closest prognosis as to

a time line, that has to happen first.

Commenting on Disclosure, her contacts at the Embassy of

Peace stated that there would be Disclosure, but no particular date as the

energy pattern fluctuates dramatically, and the entrance of the City of

Light frequencies interrupt the normal flow you are used to daily. It would

only take place on the 27th. December 2011 if all were in the projected time

line of Disclosure, and according to its effect on the City of Light. She

has also been told that the weather changes all over our planet is due to

the pre-City energy coming into our 3 dimensional atmosphere.

Genii is the City Embassy Emissary of Love, and expects at

some stage to talk of her work with President Obama who she is told holds

the Light, and also at the United Nations. Genii has spent 27 years involved

in this project, and only recently been given permission to announce her

mission of enlightenment.

I feel that this event is so important, that I am sending

out this advance information so that if you wish, you can buy the book prior

to the program. I feel that will make it more enjoyable and understandable.

Genii's website is:
and her E.Mail address
thegeniiconnection@msn.com
This will be one of the most exciting programs I have taken

part in.

In Love and

Light. Mike Quinsey.
Originals and translations of Galactic Messages available at
http://peacelovelove.blogspot.com/
http://www.galacticchannelings.com/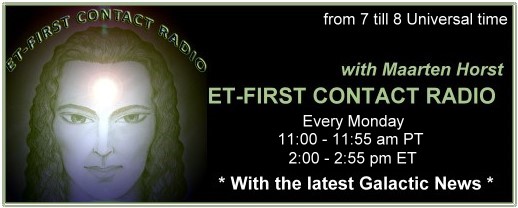 Every Monday night from 8 to 8:55 pm
channelings and related matters are being discussed on
First Contact Radio
.
The show is hosted by Dutch lightworker Maarten Horst and is presented in English.